Dr Amgenic
Digital Blood Pressure Monitor
Regular price
Rs. 1,299.00
Sale price
Rs. 1,899.00
Unit price
per
Tax included.
Product Description
Digital Blood Pressure Monitor is a fully automated blood pressure measuring device. Designed with excellence, it is one of the best blood pressure machines that provides precise and accurate BP and pulse ratings. Now, monitor your heart health anytime, anywhere, with your healthcare buddy that highlights any pulse rate irregularities, detects irregular heartbeats, and indicates signs of hypertension. 
Dr Amgenic Digital Blood Pressure Monitor is your blood pressure machine for home use. The fully automated device enables a very fast and reliable measurement of systolic and diastolic blood pressure. This digital blood pressure monitor is designed to provide precise and accurate BP and pulse ratings. It is a perfect purchase to keep your health in check. The device enables you to monitor your heart health at any time and from anywhere. It also has a unique hypertension indicator to assess the blood pressure readings as per the medically defined standards. Healthcare should know no bounds, just as health does!
Key Features 
Upper Arm Style Electronic BP Monitor
It is an electronic model that makes for the best BP monitor in India. It is easily attached to the upper arm.
Fully Automatic Inflation & Deflation
Dr Amgenic BP check machine has a fully automated setup. Once used to measure your blood pressure, the inflation & deflation automatically. 
The digital LCD display makes the device very easy to use. Anyone in your home can conveniently read the readings from the display panel.
The BP check machine uses the cuff placed on the upper arm for measurement of the BP. The cuff is inflated and deflated to measure the pressure inside it. 
The device delivers results of clinical accuracy, an accuracy validated by the FDA and CE. Its accuracy is +0.4 kPa (+3mmHg) for static pressure and within +5% for pulse.
Easy to Check BP Anywhere
It is the best BP machine online, especially for people who need to monitor their BP several times a day. A portable and easy-to-use device that can measure your BP from anywhere.
Specifications 
Brand

Dr Amgenic

Name

Digital Blood Pressure Monitor

Model

AH/BP-PC/01

Warranty

1 year

Country of Origin

India

Measurement Range

Pressure

Pulse

Arm cuff pressure display range




5.3kPa - 37.3kPa (40mm Hg - 280mm Hg)

40-199times/min 

0.00 kPa - 39.9 kPa (0 mmHg - 299 mmHg)

Accuracy

"Static pressure: +0.4 kPa (+3mmHg) Pulse: within+5%"

Certification

ISO 13485, GMP, CE, FDA

Resolution

0.1 kPa (1mmHg)

Power Supply

DC 6V (1.5 V four AAA batteries

Storage temperature & moisture

-10°C~55 °C Moisture:<10%~85%RH

Using temperature & moisture

5°C~40°C Moisture: <15% +85%RH

Weight

About 220g (excluding batteries)

Dimension

115mm × 96mm x 59mm(L*W*H)
Other Information
Guaranteed quality and a warranty of 1 year. If damaged or found defective within the warranty period, we will repair or replace it within a reasonable time.
Our digital BP monitor is a product Made in India. We believe in making life easy and providing Health & Well-Being Solutions through Innovations.
Quality Standard Certifications
We are ISO 13485 certified for our quality management system. Our digital BP monitor meets customer and applicable regulatory requirements.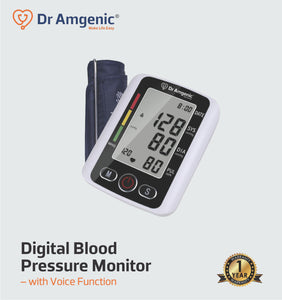 Specifications
Name

Digital Blood Pressure Monitor

Measurement range
Pressure: 5.3kPa - 37.3kPa (40mm Hg - 280mm Hg) Pulse: 40-199times/min Arm cuff pressure display range: 0.00 kPa - 39.9 kPa (0 mmHg - 299 mmHg)
Accuracy

"Static pressure: +0.4 kPa (+3mmHg) Pulse: within+5%"

Resolution

0.1 kPa (1mmHg)

Power supply

DC 6V (1.5 V four AAA batteries

Storage temperature & moisture:

-10°C~55 °C Moisture:<10%~85%RH

Using temperature & moisture:

5°C~40°C Moisture: <15% +85%RH

Weight

About 220g (exclude batteries)

Dimension

115mm × 96mm x 59mm(L*W*H)
---