Dr Amgenic
Pulse Oximeter
Regular price
Rs. 957.00
Sale price
Rs. 1,275.00
Unit price
per
Tax included.
Product Description
A highly reliable oximeter to measure blood oxygen saturation and pulse rate. Completely based on digital technology, It determines blood oxygen saturation level (SPO2), pulse rate, and pulse strength with clinical precision. Digitalization made it 100% accurate and easy to use. Facilitating noninvasive spot-check measurement of functional oxygen saturation of arterial hemoglobin (SpO2). Its Perfusion Index indicates the pulse strength at the sensor site.
Our Bluetooth-enabled pulse oximeter measures blood oxygen saturation level and pulse rate with complete accuracy.
Based on all digital technology, the pulse oximeter is intended for noninvasive spot-check measurement of functional oxygen saturation of arterial hemoglobin (SpO2). The Perfusion Index is an indication of the pulse strength at the sensor site.
Respiratory or breathing rate is the number of breaths a person takes in one minute while at rest. An abnormally high or low respiratory rate may indicate certain medical conditions such as bradypnea, apnea, or tachypnea. It is a user-friendly product that is Made in India and has an ISO certification.
Key Features 
100% Accuracy
One of the key features of our pulse oximeter is 100% accuracy. It measures arterial hemoglobin (SPO2) and Heart Rate accurately.
Bluetooth Enabled
It is enabled with Bluetooth functionality. It facilitates a seamless connection with your mobile phone so that the readings can be synchronized and stored.
One Button Operation 
Portable and very convenient to operate. All operations are done with a single button. Just switch it on, place your finger, and you are done.
LED Display 
The pulse oximeter's large LED display displays the measurement clearly and in large sizes. It makes reading easier for everyone.
Battery Indicator 
Since the device is battery-powered, it is essential to know the status of battery life. Hence our pulse oximeter has a low battery indicator that helps us take necessary action on time.
Automatically Standby/Sleep 
It has the option of getting into sleep mode once it is inactive for some time. This saves battery consumption. You may quickly turn it back to measurement mode for easy measurement.
Specifications
| | |
| --- | --- |
| Brand | Dr. Amgenic |
| Model | AH//PO-BW/01 |
| Saturation Range | 0-100% |
| Country of Origin | India |
| Pulse Rate Range | 25-250 bpm |
| Warranty | 2 years  |
| Accuracy  | 70-100%, ±2% |
| Weight  | About 100g (including batteries)  |
| Power Source | Battery powered |
| Battery specification  | 2 batteries AAA 15V |
| Dimension  | 65 x 35 x 31mm |
| Certification | ISO 13485 |
| Response | Quick response |
| Net quantity  | 1 count  |
| Display | LED display  |
Other Information
Warranty
Guaranteed quality and a warranty of 2 years. If damaged or found defective within the warranty period, we will repair or replace it at a reasonable time.
Made in India
Our pulse oximeter is a product Made in India. We believe in making life easy and providing Health & Well-Being Solutions through Innovations.
Quality Standard
We are ISO 13485 certified for our quality management system. Our pulse oximeter meets customer and applicable regulatory requirements.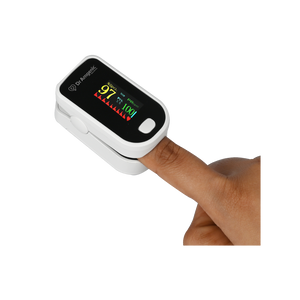 Specifications
Saturation Range

0-100%

Accuracy

70-100%; ±2%

Pulse Rate Range

25-250 bpm

Weight About 100g

(including 2 batteries AAA 1.5V)

Dimension

62 x 35 x 31mm
---