Dr Amgenic
Digital Clinical Thermometer
Regular price
Rs. 205.00
Sale price
Rs. 245.00
Unit price
per
Tax included.
Product Description
Easy way to see body temperature anytime, anywhere. An easy-to-carry device with professional accuracy. Best suitable for outdoors first-aid kits or even at home. It's a mercury-free device, equipped with a beep alarm, a convenient digital display, and a memory function. All these features enhance it. 
This Digital Clinical Thermometer is a portable temperature-sensing instrument with permanent probes and a digital display. The digital display is a convenient mode that enables anyone and everyone to read the temperature accurately. These thermometers are mercury-free. These thermometers contain a thermistor inside the tip used to measure the temperature. They are equipped with a beep alarm & memory function.
Use this digital thermometer for fever or to check the body temperature anytime and anywhere. A product that you can trust for yourself and your family. 
We offer a very reasonable digital thermometer price. However, its exquisite features like high accuracy, fast response, and resilience make it a people's choice irrespective of the cost. 
Key Features 
Our digital thermometer provides high precision clinically accurate results. Its range of measurement is between 32°C - 42°C | 89.6°F – 109.4°F.
Our digital thermometer has a beep alarm attached. It produces a beeping sound to signal that the temperature measurement is complete. 
Not just accurate, our digital thermometer delivers fast results as well. It allows you to take body temperatures quickly with complete accuracy and auto shuts off once the measurement is done. 
Our digital thermometer is made of resilient material that makes it break-resistant. It can, thus, be used by anyone (even small children) without the fear of getting damaged if ill-handled. 
Our digital thermometer makes it easy for you to track the progress of your or your family member's fever. It keeps the last read temperature in its record, which can be checked on the display when you power it on the next time. 
You may use our digital thermometer to record the body temperature of people of all ages, including infants, as it is non-poisonous. It can safely be inserted in the mouth or armpit for temperature measurement. 
Specifications 
| | |
| --- | --- |
| Brand | Dr Amgenic |
| | |
| Range of Measurement | 32°C - 42°C | 89.6°F – 109.4°F |
| Country of Origin | India |
| Quantity | Available in a pack of 10 |
| Warranty | 1 year |
| Accuracy | Professional accuracy with superior sensors (it is mercury-free and uses a thermistor at the tip to measure the temperature) |
| Water Resistance Level | Water proof |
| Power Source | Battery powered |
| Generic Name | Thermometer |
| Break Resistance Level | Break resistant |
| Certification | ISO 13485 |
| Response | Fast response |
| Memory | Last Reading Memory (Digitally displayed when powered on again) |
| Display | Easy to read digital display |
| Design | Strong and sturdy |
| Completion Alarm | A beeping alarm that beeps once the measurement is complete |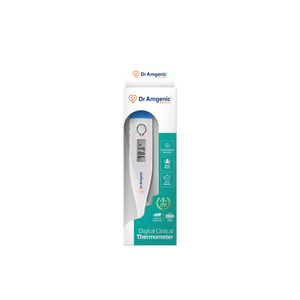 Specifications
Range of Measurement

32°C - 42°C | 89.6°F – 109.4°F
Accuracy
High Accuracy

Break Resistant

Easy to Read

Memory

Fast Response

Auto Shut Off

Beeper sound lets you know when measurement is complete
---