Dr Amgenic
Dr. Amgenic Menstrual Cramps Relief Roll On | Quick Relief For Menstrual Cramps | Ayurvedic Ingredients Based Relief Roll On
Regular price
Rs. 249.00
Sale price
Rs. 325.00
Unit price
per
Tax included.
Product Description
Dr. Amgenic Cramps Relief Roll On is a revolutionary product specifically designed to provide quick relief from menstrual cramps in women. Its key ingredients, including Curcumin Oil, Chandan Oil, Camphor, Menthol, and Thymol, have been carefully chosen for their powerful natural properties to alleviate discomfort and promote a soothing experience.
Formulation of Dr. Amgenic Roll On
Our Cramps Relief Roll On is crafted using a meticulous process that harnesses the unique benefits of each ingredient. Curcumin Oil possesses anti-inflammatory properties that help reduce pain and swelling during menstrual cramps. Chandan Oil is known for its calming and relaxing effects, providing comfort during uncomfortable periods. Camphor aids in improving blood circulation, which can help ease cramp-related tension. Menthol creates a cooling sensation, offering a refreshing and soothing feeling when applied. Thymol is renowned for its antispasmodic qualities, which help in reducing muscle spasms and cramps.
Why Choose Dr. Amgenic Roll On?
No Side Effects
Dr. Amgenic Cramps Relief Roll On is made from 100% natural ingredients, ensuring it is safe to use without any adverse effects.
Quick Relief
Its unique formulation allows for fast and targeted relief, providing comfort when you need it the most.
Easy to Use
The roll-on design ensures a hassle-free application, making it convenient for use on-the-go.
Easy to Carry
Its compact size makes it portable, fitting easily into your purse or pocket, ready to use whenever needed.
Essential Oil Blend
The combination of essential oils in our Roll On creates a pleasant aroma, adding to the overall relaxation experience.
Ingredients
Curcumin Oil: Reduces pain and inflammation during cramps.
Chandan Oil: Provides calming and relaxing effects.
Camphor: Improves blood circulation and eases tension.
Menthol: Creates a cooling and refreshing sensation.
Thymol: Helps reduce muscle spasms and cramps.
Lotion Base: Serves as the carrier for the active ingredients.
Instructions To Use
To use Dr. Amgenic Cramps Relief Roll On, simply follow these instructions for a soothing experience. Rub and gently massage the roll-on for 2 minutes directly onto the affected area during painful menstruation, menstrual cramps, and associated problems. For best results, apply the roll-on 2-3 times daily. Our product is suitable for women of all ages seeking natural relief from menstrual discomfort. Embrace the comfort and convenience of Dr. Amgenic Cramps Relief Roll On as an essential part of your wellness routine.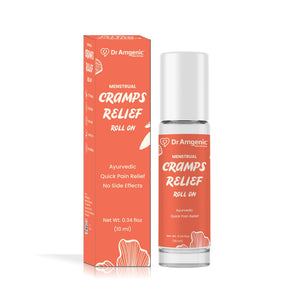 ---