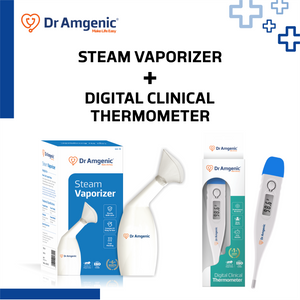 Dr Amgenic
Dr Amgenic Steam Vaporizer and Digital Thermometer
Regular price
Rs. 825.00
Sale price
Rs. 1,178.00
Unit price
per
Tax included.
Product Description
Steam Vaporizer
Our lightweight, compact, and easy-to-use vaporizer steam inhaler is highly effective and comes with a 450 ml tank capacity. It is a healthy choice for your family & easy to use by one and all. It is also a recommended steam vaporizer for babies. It is advised for use during allergies, cold, cough, flu, sinus congestion, or dryness. Its fast heating capability fastens the relieving process. It has a plastic body to prevent electric shocks and is extremely easy to use and clean. Besides the advantages it carries during sickness, steaming is also good for skin as it opens pores & helps in deep cleansing.
Key Features 
Our vaporizer steam inhaler is equipped with a robust locking system. The usage of such a system ensures the safety of the device and the prevention of any accidental use.
The device is portable & compact; it occupies less space & apt to be carried along anywhere. It is pretty much simple to use by people of all ages.
Once switched on, our vaporizer steam inhaler heats the water quickly, thus acting as a healer and providing instant relief.
Our steam vaporizer for babies and adults is a quality product worth the purchase. It stands with our motto of making life easy by facilitating health & well-being through innovation. 
Light in weight, easily portable, and highly compact are the chief selling points of Dr. Amgenic Steam Vaporizer. You may place it at home, take it to the office, or carry it wherever you go.  
Its tank capacity, and hence the water storage capacity, is as vast as 450 ml. Thus, it carries enough space for the required amount of water for maximum effectiveness and no fear of water spilling over.
Pulse Oximeter
Our Bluetooth-enabled pulse oximeter measures blood oxygen saturation level and pulse rate with complete accuracy.


Based on all digital technology, the pulse oximeter is intended for noninvasive spot-check measurement of functional oxygen saturation of arterial hemoglobin (SpO2). The Perfusion Index is an indication of the pulse strength at the sensor site.


Respiratory or breathing rate is the number of breaths a person takes in one minute while at rest. An abnormally high or low respiratory rate may indicate certain medical conditions such as bradypnea, apnea, or tachypnea. It is a user-friendly product that is Made in India and has an ISO certification.
Key Features 
100% Accuracy
One of the key features of our pulse oximeter is 100% accuracy. It measures arterial hemoglobin (SPO2) and Heart Rate accurately.
Bluetooth Enabled
It is enabled with Bluetooth functionality. It facilitates a seamless connection with your mobile phone so that the readings can be synchronized and stored.
One Button Operation 
Portable and very convenient to operate. All operations are done with a single button. Just switch it on, place your finger, and you are done.
LED Display 
The pulse oximeter's large LED display displays the measurement clearly and in large sizes. It makes reading easier for everyone.
Battery Indicator 
Since the device is battery-powered, it is essential to know the status of battery life. Hence our pulse oximeter has a low battery indicator that helps us take necessary action on time.
Automatically Standby/Sleep 
It has the option of getting into sleep mode once it is inactive for some time. This saves battery consumption. You may quickly turn it back to measurement mode for easy measurement.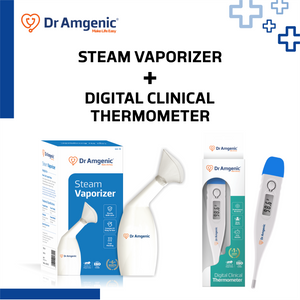 ---